Decorating your home can be a very entertaining and interesting task, it also allows you to have the opportunity to condition it to your style and personality, which is wonderful, because it is about all the elements adapting to your needs and tastes .
If you have no idea how to start this decoration process , or the elements you should take into account, keep reading this post where we offer you the best tips for decorating your flat or house .
Essential tips for decorating your apartment
1. Floor size
Depending on whether it is a large or small apartment, even a mini-apartment, we will have a series of possibilities. For this reason, it will be essential to measure the distances of each area, in order to know the exact measurements and their capacities before thinking about acquiring the furniture .
This step is essential because it can happen, for example, that we have been captivated in advance by a sofa and it is not the right size for the living room, so please take note of the measurements and keep them in mind when making purchases, you can take them down in a notebook and even make a kind of plan of each room.
In the same way, the theme of space gives us a vision of the possibilities of each environment and the need to optimize each corner with the appropriate items , as well as its functionality.
2. Select the type of floor
Your house or apartment may have a floor that you love and that you want to keep, that will speed up the decoration work , and can serve as a starting point to define the style and the elements that you will incorporate in the decoration.
It may also be the case that you take the opportunity to completely change the look of your house , completely changing the floor. There are excellent options to carry it out, everything will depend on the style you want, its advantages and obviously the budget.
For example, natural wood floors are a great alternative , it is a material that is thermal insulation, it also offers beauty, elegance, resistance and are timeless floors. You can combine them with many styles and they give the space that feeling of warmth of home. For these cases, you must have a large budget, since they are more expensive than an imitation wood laminate floor.
We can also opt for natural stone floors such as marble, whose elegance is unmatched, or ceramics with a wide variety of designs, also microcement, which is very much in trend, among others.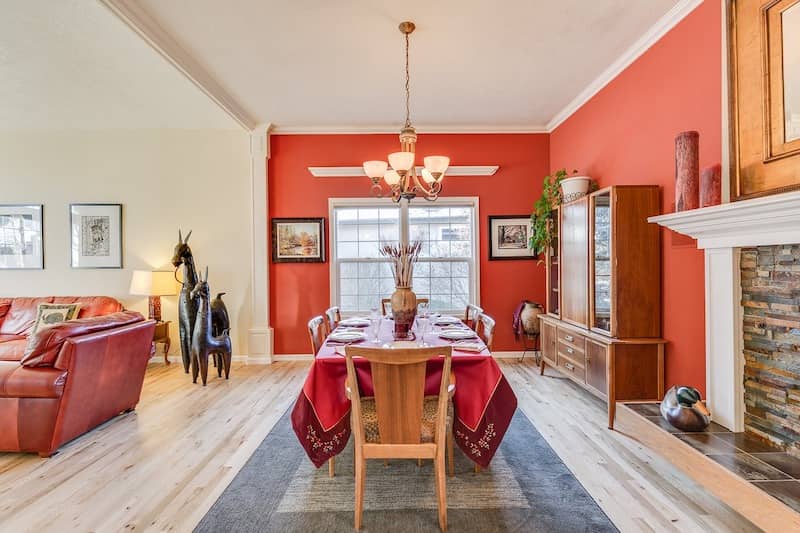 3. Select the colors
The colors will also be related to the size of the flat, since, if it is a question of small spaces, the most convenient thing will be to lean towards light colors to produce the sensation of greater amplitude and luminosity.
Although, to tell the truth, light or neutral colors such as white, cream or light grey, applied to the walls, represent a great alternative for decorating your apartment , whatever its size, because they combine very well with everything. decoration type.
It will be convenient to paint the walls before taking the furniture to the floor, so it will be more comfortable to carry out the work.
4. Furniture
Having defined the concept of decoration that you want to apply in your home , in terms of the floor and colors on the walls, it will be convenient that you previously have an idea of ​​the type of furniture that you would like to incorporate , according to your taste, style, needs and size of each room.
A good sofa is essential for the main living room, we can find numerous furniture options that you can even have made to measure.
You can find sofa beds, armchairs, sofas with different amounts of seats,  chaise longue sofa that offer maximum comfort for rest, as well as the enjoyment of watching movies or your favorite programs.
In the same way you must select the furniture for the bedrooms, the dining room, among other rooms, the important thing is that they adapt to the style you are looking for and to the spaces, so that they harmoniously complement the decoration and the concept you want.
5. Lighting and curtains
The ideal is to make the most of natural light , in case your apartment has it. Otherwise, it will be important to optimize it with the right lamps that offer the necessary lighting in each room.
Lamps represent a fundamental element in home decoration , selecting the right one for each space can be challenging, in the market we will find various alternatives to incorporate into each space.
Everything will depend on the needs of each environment, its style and its size. Floor lamps on the sides of the sofa can add a very nice touch. Recessed ceiling lights offer discretion and elegance, without altering the design line.
As for the curtains, according to each case and need, they can be selected from a material and color that does not affect the luminosity of the area.
But if what you need is privacy, or to prevent light from entering the interior, as would be the case in bedrooms, you can opt for curtains made of dense or even thermal material, as well as wooden shutters.
6. Textiles and carpets
Textiles provide warmth, comfort and detail in all decoration. This aspect includes cushions, pillows, sheets, blankets, quilts, among others. With their texture and colors they will be the ideal complement to the decoration of your home , in different areas, such as bedrooms and living rooms.
In relation to the rugs, they will give more warmth to your apartment, in addition to serving to divide zones in the same room, being located in strategic areas, such as the dining room, living room, corridors, bedrooms, among others.
The style you select will depend on your taste, style, and budget.
7. Other elements and decoration tips
We can find various elements for the decoration of our house , which provide personality and character, such as paintings, mirrors, flower pots, sculptures, original jewelery boxes and various handicrafts.
The most advisable thing is not to overload the rooms and allow a warm feeling of home to be generated , without excesses of elements, obviously it will depend on your style.
Try to select only elements that you like, that make you feel comfortable, not because they are in trend, but because you feel good with them in your home.
Sometimes it is much more practical to opt for a timeless style that does not go out of style and lasts over time . Once defined, it will only be enough to change the cushions, rugs, pictures or curtains from time to time to give the rooms a renewed look .