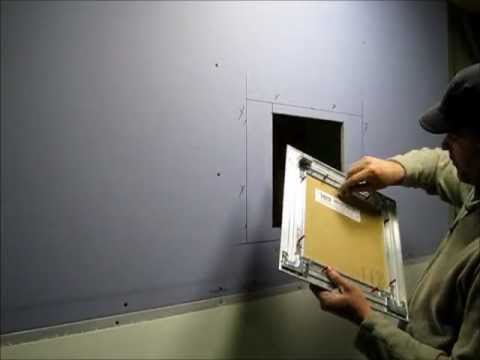 An access panel is a flexible building product that can be one of various designs, materials, and sizes depending on its purpose. Typically, it gives access to hard-to-reach areas behind ceilings, floors, and walls when repairs or maintenance are needed.
For centuries, building construction has been using access panels. You can find them in just about every home and building around, but you may not understand the placement, ubiquity, and purpose in every structure if you have never used one. 
Access doors come in a wide array of configurations and sizes. The different types of access panels are categorized based on the panel's material. Aluminum and steel are commonly used, especially in commercial applications. Vinyl or plastic material can also be used and commonly found in residential applications. You can have a panel custom-designed or pre-finished by the manufacturer or painted upon your installation to match the surrounding decor. There are types of access panels available with a decor finish type and have molded styles similar to a door.
Best Access doors offer various benefits, including: 
#1 Easy Access
Access pane is a component of a building that provides easy access to electrical and mechanical systems. These units may be installed in the ceiling or wall to allow for repair and maintenance of ductworks, pipes, wires, and other equipment of the building, and you can add different types of panels during retrofit or the construction phase of the building. 
#2 Conceals Components
Some building codes now require access panel installation to conceal essential utility facilities such as cables, wires, and plumbing and HVAC components. And access panels installation in commercial spaces or residential spaces provides easy and safe access to those concealed areas during the regular inspection, repairs, and maintenance. 
#3 Provides Extra Storage
Access Panels act and serve as another wall layer to add a specific spot on the wall or ceilings. It also provides the ability to store, insulate, and organize that particular spot. So aside from it providing easy access, it can also serve as extra storage and, most of all, the safety features that the access panel offers in terms of emergency access, etc.
Types of Access Panels
General Purpose Access Panels: These are the most popular access panels for wall installation and ceilings in both exterior and interior locations for commercial or residential use. General-purpose access doors come with valuable features like concealed hinges, recessed frames, flush installation, and preserve elegant designs on the surface where you install them. In addition, these panels are applicable in specific areas where access to valves, pipes, or wires is necessary to provide safe and quick access to these facilities.
Fire-Rated Access Panels: The design of this panel is to meet building high safety standards; fire-rated access panels are ideal for installations in a place where there is a relevant issue of fire safety. This door can conceal HVAC elements, electrical wirings, flammable materials, gas lines, and exhaust systems. Often it is equipped with a smoke-proof gasket, thick galvanized steel, and mineral wool insulation to perform its duty appropriately. Insulated Access Panel is ideal for wall and ceiling installations, while uninsulated access panels are ideal for wall installations only. 
Security Access Panels: These access panels are available in high or medium security. They are suitable in schools, prisons, banks, government offices, and other secure facilities. It is equipped with tamper-proof latches and can withstand forced and illegal entries. 
Duct Access Panels: These access panels provide safe access to building ductwork during duct maintenance, repairs, and inspection. It comes in a wide range array to meet the different sizes and duct styles. There are also available duct access panels for protecting and concealing grease ducts and HVAC ducts in commercial kitchens. 
Exterior Access Panels: If you need access to electrical, mechanical, and plumbing outside the buildings, exterior access panels are ideal. Mostly it is water-resistant to withstand outside elements like rain and to provide security to components. 
Floor Hatch Access Panels: When requiring access below underground to building utilities or between floors, floor access panels are ideal for that application. It also allows walk-in entry to those critical areas. In addition, some of these types of access panels come with a fire-rated to assist fire safety in the building as the code requires. 
In large industrial and commercial projects, to meet the standard of building codes and regulations, access panel installation is a must because of these panels' proven benefits and safety features bringing into the building. So if you're planning for any renovation or new building project, be sure to incorporate access panel installation into your plan.