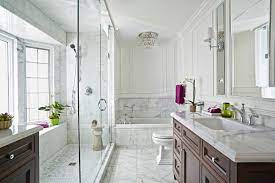 If the last two years have taught us anything, it's that you have to strike when the fire's hot and right now, if real estate insights for 2022 are accurate, we only have six months left before the market starts to even out. So, if you're hoping to have a fast home sale so you can cash in while the market is still in your favor, then you might want to do some home improvement projects to spruce the place up. 
The bathroom is one of the most important rooms in the house and it's a space that buyers pay a lot of attention to. So when you're planning out your remodeling projects, you should focus some of your time and energy on remodeling the bathroom. Of course, you don't want to do just anything! These bathroom remodeling ideas are a great starting point because they can make your bathroom look amazing, but these projects also add value to your home when you sell!
1. Updated bathtub
Depending on how old your house is, your tub is bound to need to be replaced. You don't even have to get a fancy clawfoot or a whirlpool tub. However, you shouldn't replace the tub with a luxury shower because buyers (especially with kids) aren't going to love the idea of having to take showers and only showers for the rest of their lives (well, for the rest of the time they're living in the home).
2. New vanity
When you replace the vanity, you should take the time to look for one that complements the style of your bathroom but also has ample counter space and storage. If you're working in a master bathroom,  we recommend installing a vanity with two sinks, whereas if you're working in a guest bathroom or a powder room, a pedestal sink would do just fine. 
3. Tiled flooring
One of the biggest changes you can make in any part of the home is to replace the flooring, and the bathroom is no different. If you're on a budget, you can opt for ceramic or porcelain tile with dark grout (to make an impact), but those with larger budgets shouldn't feel the need to use marble or travertine tile – unless you live in a wealthier development and those materials are in demand.
4. Waterproofing
When you're renovating, consider waterproofing your bathroom or improving the existing waterproofing measures. Your contractor can walk you through the process and make suggestions about what you can do to protect your home from overflowing tubs or burst pipes. It's always better to be safe than sorry and the new homeowners will definitely appreciate the extra peace of mind, too! 
5. Design for
everyone
Old bathrooms weren't designed for everyone in mind and as you're renovating your bathroom, consider making design choices with everyone in mind because you never know who'll be interested in your home. Common universal design elements can be anything from installing a bidet or a taller toilet to making sure there's easily accessible storage spaces near the toilet, sink, and bathtub/shower. Again, your contractor or even your real estate agent can help you with this.
Increase home value with bathroom remodeling projects
You know what they say, "You need to spend money to make money!" When it comes to bathroom remodeling projects, you're going to want to make choices that will add value to your home rather than make choices based solely on your personal preferences. You're selling it after all! These five remodeling projects run the gamut in terms of how much each task will cost, but you can rest assured that when you go to sell, you'll get some of that money spent on remodeling back!