Although we usually associate interior decoration with intimate and personal spaces, such as our homes, the world of interior design can extend to other types of spaces and can play an essential role in ensuring that our businesses are welcoming and have a unique character. Due to its great utility when it comes to personalizing spaces, decoration professionals are increasingly needed to ensure that our cafeteria or restaurant fits perfectly with our wishes. Interior design is not something exclusive to homes or our homes! It goes much further!
In this post we offer you a brief summary of the different advantages that we can benefit from if we have the help of interior decorators to design our businesses, whatever the type of establishment we run. Almost certainly, every business owner will want their business to fully reflect their personality and to achieve a comfortable and pleasant environment for their customers to feel at home. Because of them, it can sometimes be difficult to reconcile our own tastes with more general guidelines that will bring our establishment closer to a larger audience and that will make our space a more attractive place. That is where the work of interior design professionals comes in! We want to make it even easier for you!
A good first impression
We are not always aware of what type of decoration is the most appropriate for our establishment and, therefore, we recommend that you go to professionals in the sector who will be happy to advise and help us throughout the process. Among the benefits of having an interior designer in our team are, on the one hand, the optimization of our resources through a more creative vision and a great saving of our time and effort. On the other hand, the figure of the decorator will give us the opportunity to always be up to date with regard to trends in the world of interior design and will have all the necessary information on materials, different finishes and styles. Thanks to their experience, decoration professionals have developed a great capacity to solve any problem and will create a space that perfectly reflects the business with which we want to conquer the hearts of our clients.
Achieving an intimate and family atmosphere consistent with the dishes we serve and in which our customers will feel comfortable will be essential to earn their loyalty.
On the other hand, whatever the size of our business, we must always try to create an illusion of spaciousness in the premises, a characteristic of our space that we can enhance by integrating mirrors or glass elements into our decoration. Taking care of our lighting will also help the general environment of our business to suit our preferences.
Convey your personality
It is not difficult to echo the importance of having adequate decoration to ensure that our restaurant succeeds. The advantages that having a specialist in this field provides us will mean that we not only achieve an establishment synonymous with success, but also that our business perfectly reflects who we are and what we want to convey through this project. With this objective, we must always take certain factors into account and try to pay attention to those details so that the experience of spending an hour in our establishment is unforgettable.
Choose your theme
One way to design not only our restaurant, but also a harmonious and coherent concept for our establishment is to opt for a theme that is related to the type of cuisine we decide to prepare. Once we are clear about what approach we want to give to our menu, it is time to choose the style that we want to predominate in our space and what shades or patterns will help achieve the effect we want in our business.
If, for example, we allow our style to be influenced by a historical period, we will integrate objects with an antique or vintage appearance into our decoration and we will try to ensure that elements such as glasses or crockery also convey this concept. This idea is evident in restaurants like Speakeasy, establishments inspired by the clandestine bars so common in the United States between 1920 and 1933 due to Prohibition. If, on the contrary, we want our theme to be related to a decorative trend, we can adapt styles such as the Nordic to our business using a range of neutral colors. The walls, the floor, the lighting… All these factors are necessary if we want to remodel our premises and lay the foundations for what will be the project of our lives.
Choose functional furniture
Once we have decided what type of decoration we want to reign in our business, we can go on to choose the pieces that will make up this design and that will make our ideas materialize. Of course, furniture in keeping with the style of our restaurant will facilitate the feeling of cohesion in our establishment.
In the same way, through more elegant or relaxed furniture, we will be able to define the formality that we want to give to our premises and, as a result, the category that we want to convey in our premises.
We always recommend not overloading our decoration excessively. Less is more! Remember that, despite the fact that we see the empty space, once it is full of customers, our restaurant will come to life on its own. We must ensure that the arrangement of our tables is loose and comfortable so that our diners can have a pleasant experience in our establishment and, in the same way, we must devise a mise en place that allows our clients to enjoy each bite.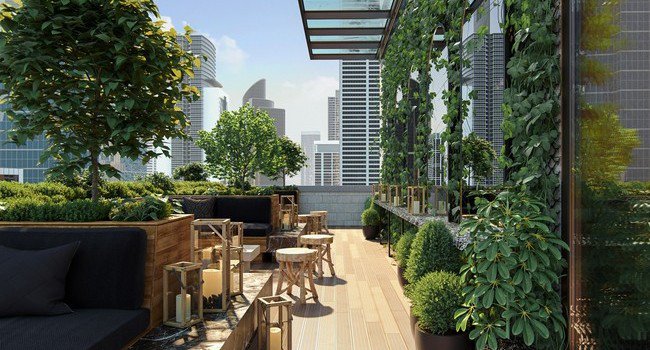 Pay attention to lighting
One aspect that, in most cases, goes unnoticed is lighting. And it is something that we should never overlook! Much of the comfort that a space transmits resides in the lighting it offers. We must always play with different types of lighting, vary the intensity of the light and, of course, play with shapes and styles that add personality to our decoration and give our space a daring and groundbreaking touch. One way to apply this trend is by replacing the typical trapezoid-shaped tulip lamps with spherical or round lamps.
In the same way, we should not be obsessed with direct light. To achieve a warm and relaxed atmosphere, it is important to homogenize the light in our space and combine ceiling lights with sconces on the walls, chandelier or center candles.
Don't forget the walls!
A very original way to add personality and character to our space is by paying special attention to our walls. Hanging works of art in our restaurant will make it convey an intellectual and sophisticated atmosphere, while adding color and design to our establishment. Although the most common is to integrate paintings with culinary motifs, we should not limit ourselves to the conventional or common. It is essential that the decoration of our walls follows the main decorative line of our premises and that this is consistent with the theme of our business.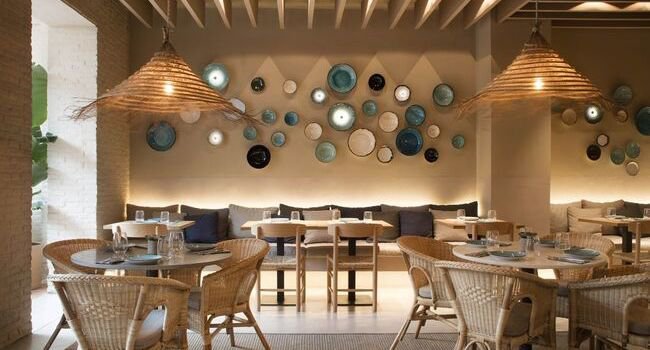 Create a unique atmosphere
As we have anticipated, the size of our premises has no influence at all when it comes to offering a current and pleasant experience. By promoting this type of space through intelligent decoration, we can create premises that give a lot of play and offer an intimate and welcoming atmosphere. This is the case of restaurants with a more take away philosophy that do not have the necessary meters to place tables and chairs in their establishment but that make sure to always provide their customers with a comfortable and attractive corner in which to enjoy a bite. fast.
The decoration of our business is almost as important as that of our home. Going to interior design professionals will help us to provide our premises with the philosophy that we want to transmit to our clients. The time has come to put into practice all the ideas and advice that the world of interior design offers us, always counting on the help and advice of qualified professionals.