The comprehensive reform of this 140-square-meter apartment has been carried out in different phases, depending on the rooms. This is the home of a married couple with their grown and independent children, a reason that motivated them to give the family home a new image.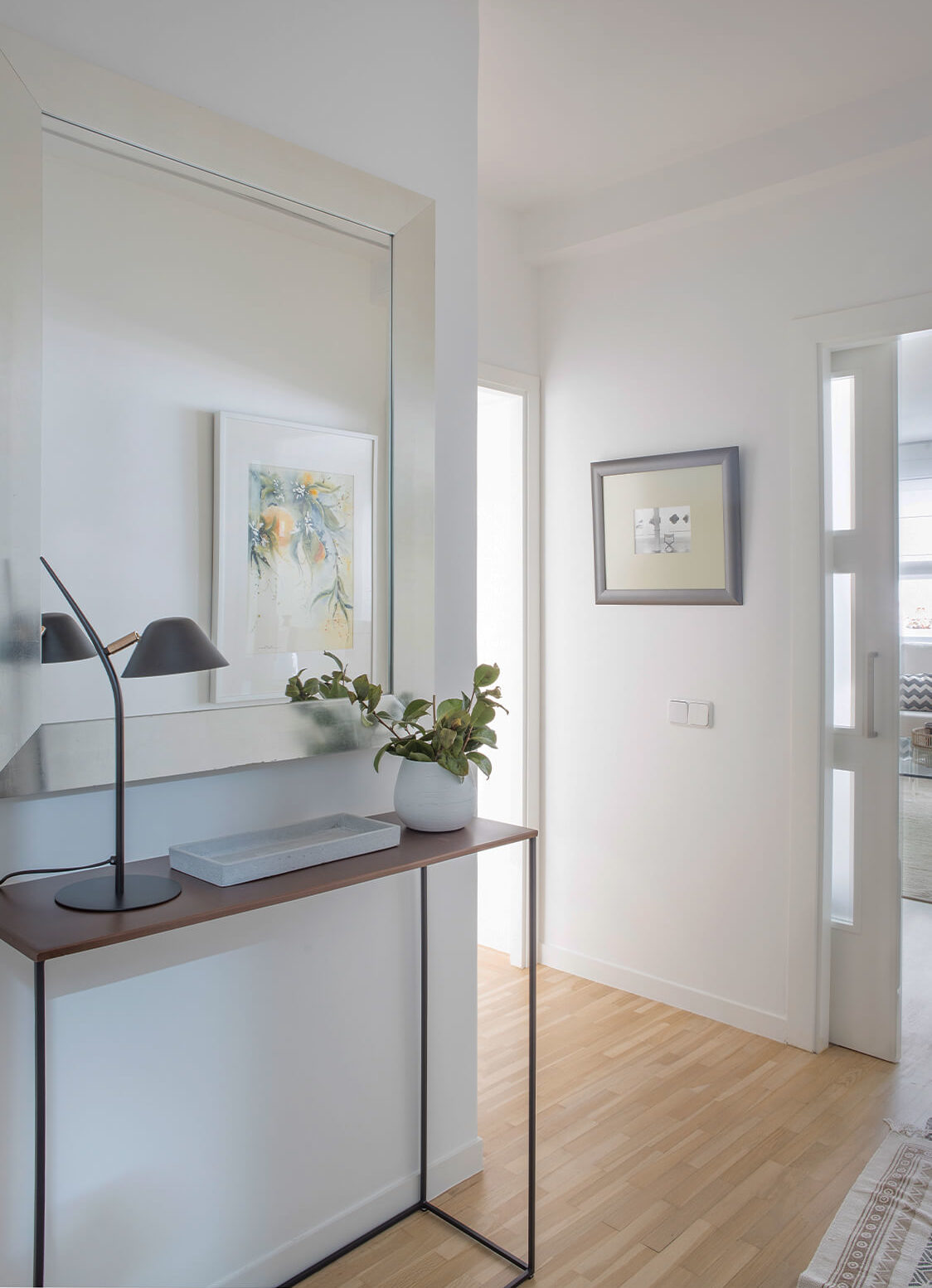 Interior design that enhances natural light
The house is located on the ground floor of the building, which means less natural light enters and, therefore, it was necessary to think about the best resources to maximize it. Within the phases of the integral reform, the first step was to clarify the original parquet, restoring it and removing the intensity of oak wood.
And one of the key aspects of the interior design and decoration carried out was the commitment to a color palette based on white (including the carpentry of the doors) and natural wood, to achieve more luminous design spaces. It is clearly perceived in the hall itself, into which natural light from the living-dining room enters thanks to the glass door that connects both rooms.
Touches of pastel colors for a very light environment
The living room and dining room share the same space and it is the most important intervention of the comprehensive reform , with everything completely new, except for the paintings that are the work of the owner and, although in pastel tones , provide the most striking touch to a predominantly serene and relaxing environment of white and ecru in upholstery, furniture, curtains, carpet, etc.
It is worth noting on the main wall a piece of furniture whose design is very identifying . In the shape of a capital letter 'i', from floor to ceiling in white lacquer, and whose use is shared between both environments.
Kitchen and bathroom more current and with a lot of white
The kitchen was one of the first interventions that were carried out in this integral reform by phases of the house. A more current line was chosen, all in white to enhance the low natural light, and combining it with materials such as metal and glass.
The bathroom of the suite is very similar, with which the kitchen shares the large-format white ceramic flooring. The fact of not having natural light conditioned the choice of a bone-colored covering, as well as the washbasin cabinet in white, following the guidelines that predominate in all spaces.
A spacious bedroom with simple decoration
The main bedroom does boast, like the dining room, a lot of natural light, although a neutral atmosphere and very simple decoration were also opted for, in light tones, with some touches of color from the textile accessories and a walnut chest of drawers. family inheritance that puts the darkest note.
At the foot of the bed, a custom-made white wardrobe was made, without handles, which runs along the wall in a smooth curve, and of the same wood are the two simple shelves that serve as a nightstand on each side of the bed.