For many people, building a beach house is a dream project, and there's no shortage of fantastic locations across the country to turn this into a reality. However, even the most exciting opportunities come with their own set of challenges, and building a coastal home is no different. Learn about the special considerations and unique obstacles you face when building a beach house. Find out how to address each of them to get the most value out of your property and enjoy your beachfront oasis.
1. Good Location
As obvious as it might seem, the golden rule of real estate applies to beach houses more than in any other context: location, location, location. You may be able to build, upgrade, and remodel your home as many times as you need, but you cannot change its location. Therefore, it is critical to select the right location to begin your dream project. Some of the most popular states to build beach houses today include Florida, North Carolina, South Carolina, California, Texas, and Hawaii.
Three initial factors should influence your decision when choosing a location: the local weather, the view and proximity to the ocean, and the neighborhood. An ideal beach house should be in an area with year-round warm weather and easy access to the water and be situated in a safe, low-crime neighborhood.
2. Local Zoning Requirements
Once you've selected the perfect location to begin your beach house project, research your town's zoning requirements. Many beachfront properties are situated in specially designated areas (Areas of Environmental Concern, Coastal Zones, or similar names), requiring you to apply for a special permit before building. The name of that permit changes depending on the state. For example, in North Carolina, it is a Coastal Area Management Act Permit (CAMA Permit), and, in California, it is known as a Coastal Development Permit (CDP). Every state has different requirements, and it may take several weeks to complete this process. These requirements may also dictate your building footprint; in other words, the maximum dimensions your house is allowed to cover.
3. Flood Safety
One of the primary dangers of building on the beachfront is exposure to harsh weather and the elements, such as floods. FEMA's Map Service Center website provides an interactive Flood Zone Map, allowing you to conduct early research on your area and determine if it is in a flood zone. Many counties also provide websites with up-to-date flood zone maps. For example, if you plan to build a house in Hillsborough County, Florida, you can consult their website for more information. FEMA flood zone designations are used to determine how likely it is for a specific neighborhood to flood. Some of the notations for coastal areas are as follows:
●       Zone C
Minimal flood hazard, unlikely to see more than one flood in 500 years (no more than 0.2% chance per year).
●       Zone B or X
Moderate flood hazard, with an average of one flood every 100 years (no more than 1% chance per year).
●       Zone A or V
High flood hazard, with a 1% or greater chance of flooding every year and a 26% chance of flooding throughout a 30-year mortgage.
●       Zone D
Undetermined risk area due to a lack of flood hazard analysis. May affect flood insurance rates.
4. Quality Building Materials
When building a beach house, your dwelling will receive constant exposure to the sun, humidity, sea air carrying salt from the ocean's saltwater, and the local weather conditions. Sea air is naturally corrosive, requiring you to choose materials that are resistant to salt and harsh weather.
Wood
Saltwater is a rotting agent, accelerating the deterioration of all timber. Constant exposure to the UV rays in sunlight eventually dries out and cracks timber, allowing moisture to seep in, forming mold and rot.Select robust, durable hardwood lumber used to construct deckings, such as cedar, redwood, ipe, or Brazilian hardwood. Your timber should also possess the proper coatings, protecting your wood against salt water and UV ray exposure.
Stone
Many beach houses use stone materials, such as granite or quartzite, due to their natural durability and water resistance. For a more natural and weathered appearance, you can also use fieldstone because it is often covered in moss or lichen. Popular stone elements for beach homes include walls, chiseled stairs, pillars, wall stones, and flooring cut with tile tools. Unlike brick or concrete, natural stone is relatively low-maintenance and does not require special coatings to resist exposure to the elements.
5. Select Your Roofing
For the best wind and corrosion resistance, there is no better choice than metal roofs. Standing seam steel roofs offer the highest protection to the elements while also giving your house a sharp, distinctive look. If you'd rather avoid using metal or prefer to give your house a more traditional look, you may opt for clay or slate tiles. Clay tiles are perfect for replicating Mediterranean-style architecture, while slate has a more natural look. Although they are heavier and more expensive, they may be worth the investment.
Clay and slate tiles are heavy and unlikely to fly away even under strong winds. They are also both seawater-resistant and fire-resistant. If well-maintained, roofs made of these materials may last 50 years or more.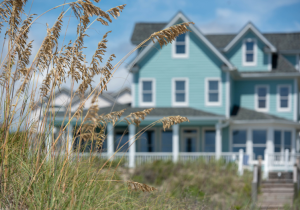 6. Strong Winds and Hurricane Safety
Design your home with input from engineers and professionals specializing in coastal home construction. They possess the expertise and knowledge to ensure your house can withstand the winds in your area. Check with your local insurance providers to see if they offer discounts or incentives for special wind-resistant roof designs (e.g., low slopes). Not only will making decisions based on your proximity to the coast help when designing your house, but you will also save money in the long run by reducing the risk of damage.
All windows on a coastal home should employ impact-resistant laminated glass, similar to the type used in auto glass. This material is best suited for resisting sudden wind gusts and high air pressure, allowing your windows to avoid shattering if they sustain impacts from flying debris. If your house is in a hurricane-prone area, you should consider additional wind protection elements, such as 150-mph impact windows or protector panes.
Don't forget to reinforce your garage door with hurricane braces; non-reinforced garage doors become weak points during a hurricane, which can cause extensive damage to your property and valuable vehicles inside the garage. Last, always have a hurricane readiness plan. Hurricanes are violent and unpredictable, meaning you must be prepared to evacuate your home at any point in time, possibly for multiple days.
Start Planning
Whether your beach house is intended to be a vacation home or your new primary residence, invest the time and effort to build a durable, valuable property. Don't hesitate to hire local professionals, such as architects or designers with experience in coastal areas, as they are in the best position to guide you during the design and build of your beach house. A local professional can help ensure your home meets all codes and safety regulations, maximizing your house's overall value