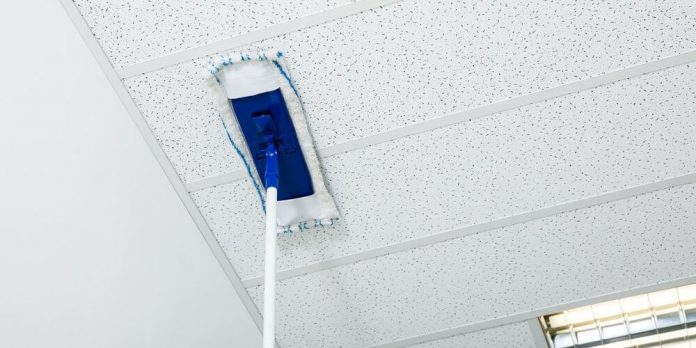 When thinking about cleaning companies, the floors, furniture or common areas come to mind, but cleaning the ceiling is also important. With the passage of time, it is normal for ceilings to end up accumulating dust, dirt and bad odors, so it is necessary to take into account the cleaning of the ceiling, especially in companies and offices where many people pass and carry out daily activities . Today we tell you how to clean different types of roofs in companies without complications.
HOW TO CLEAN PAINT CEILINGS?
Paint ceilings are the most common, both in homes and businesses. In this case we only need to tie a dry cloth to a broomstick. What you have to keep in mind that, normally, paint ceilings are not washable, so the cloth must be dry. Only if there are tobacco or food stains, we will wipe a cloth with warm water and a little vinegar. If the paint is damaged, you will need to take a pass to cover the damage. In addition, if the ceiling has moisture stains, we will apply a fungicide product and then we will give it a coat of paint.
HOW TO CLEAN WOODEN OR WALLPAPER CEILINGS?
To clean a wooden ceiling, all you need is a clean, dry cloth. In this way, we can easily remove cobwebs and dust. Once we have finished, we will apply a product that eliminates moisture. If the ceiling is wallpaper and there are stains, an eraser can be used. And if it is made of wood, we can use a little water and a specific product for this type of material.
HOW TO CLEAN TILE CEILINGS?
Most bathrooms and kitchens usually have tile walls, and sometimes there are tiles on the ceiling as well. In this case, it should be cleaned with a damp cloth and a little mild soap. For the joints, we can use an old toothbrush. If after cleaning the joints, they still have a yellowish and dull color, it is recommended that you apply a joint bleach.
HOW TO CLEAN GLASS CEILINGS?
The difficulties in cleaning a glass ceiling increase depending on the height, so you may have to hire a company that has the right materials. For this you should use glass cleaners and avoid very viscous detergents, as they tend to create lines when drying, which will be easily seen from below. In addition, it is convenient to use clean pieces of cloth to dry the crystals, so that there is no trace of the task carried out.
HOW TO CLEAN PLASTER CEILINGS?
Remove dust from the ceiling with a feather duster or the broom itself. Then wipe a damp cloth placed on the broomstick and pass it over the entire surface. In this way, all the dust will stick to the cloth and prevent it from falling to the ground.
HOW TO CLEAN ACCESSIBLE CEILINGS?
Also known as suspended ceilings, accessible ceilings are fairly easy to clean. There are many specific products on the market for this type of roof. The only thing you need to consider is whether it is porous or non-porous. Of course, some false ceilings may require a pre-treatment to remove soot from the air conditioning vents, dust or finger stains.