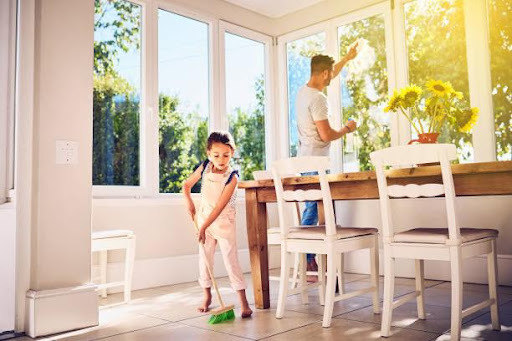 Sorting is about a lot more than just clearing up physical space. It's also about finding mental equilibrium. Disorganization is stressful, exhausting, and time-consuming. It also has an impact on concentration. According to a Princeton University study, because disorder impacts our visual cortex, it makes it harder to focus on a single task. Other research in the specialized journal Personality and Social Psychology Bulletin reveals that people who live in messy houses are more likely to suffer from depression or fatigue. The pressure to maintain our homes in order has increased dramatically. 
Redesigning a home

can be a new exciting project, but with so many ideas and inspirations from which to choose, it can be time consuming. We've compiled a list of the five keys that, according to these experts, will help you finally arrange your home, as well as some goods you may buy to help you get there.

1. Follow a step-by-step procedure to choose your preferred style of organization.
Tidying isn't about punishing yourself on a lazy Sunday morning and being angry because you never get anything done. You'll move three things, but four more will arise for you to do, and you'll end up without solving anything. In addition to being aware of the problem, it is critical to want to solve it. With these observations in mind, we recommend you a weekly organizer to help you plan your day.
There is no use in planning if all these objectives and methods are stored in the drawer of good intentions. Adelaida Gómez emphasizes the significance of prioritizing pending chores. Once we've broken them down and assessed how long each one would take, it's important to set aside a day and time to do them and write it down, for example, in an organizer like this one. Otherwise, they'll end up in the never-ending pile of "tomorrow I wear."
2. To order first you have to sow chaos
It's hard to place an order without first determining what we already have at home. Turning the house upside down and emptying cupboards, drawers, boxes, and shelves are required for this. Elimination is crucial; oftentimes, disorder arises as a result of having too many items. I always advocate for elimination, not only for physical space but also for emotional well-being. And now it's time to put everything back in order after sowing chaos. A sideboard, a hanging piece of furniture such as a disaster drawer, or a metal shelf are among the options. To keep clutter at bay, use functional storage objects.
Organizing is like playing a difficult game of Tetris. After we've gotten everything out and about, we'll assess how much physical space you have to store everything. Cabinets, drawers, trunks, and dressers are all excellent storage options. Sideboards, like this one from Kenay Home in white wood with Nordic lines, can provide a bright color to any room.
It can be intimidating to have every corner measured to the millimeter. That is why a mixed bag, or a place to put everything that hasn't been assigned to a certain location, is useful. If you place it at the entrance, as in this hanging cabinet with two drawers, it can serve as a point to store your mail, for example. "A place of relaxation might be fantastic, but if one drawer fills up and becomes two, it's no longer functional," said the professional organizer, who is also the study's director.

 
Open storage, such as this metal shelf, is another wonderful way to keep disorder at bay, especially when paired with other items. Magazine file cabinets are recommended because they allow you to store documents and things vertically on a shelf or shelf.
3. Consider the items you'll require
Organizing accessories are fantastic companions for making the most of every available space. Professional organizers' main tidying tools include hangers, shelves, hooks, and, most notably, boxes. You must also plan at this moment. It's critical to gather all of the items you'll need before beginning the activity so you don't have to stop. In any case, be wary of compulsively purchasing accessories. It is counterproductive. The accessories are quite useful, but you should only buy them once you've decided on the content.

Here are three of the most common accessories that you can purchase once you've gathered all of the items you'll need for your order.
Two foldable storage boxes in a set
With or without handles, foldable or rigid, larger or smaller, bigger or smaller. A box's possibilities are limitless. Although, as the expert points out, not all of them are appropriate for every situation: you must adjust the container to the content as well as consider where they will be used and what function you want to give them in order to select the best model. This set of two boxes measures 38 x 25 x 25 centimeters and is composed of cotton cloth and cardboard.
Adjustable drawer divider
The key to making the most of the boxes' potential, explains Martínez, is to compartmentalize the space, especially if small items are to be kept inside. For this, you can use smaller boxes or use dividers, such as the one we selected that is made of resistant plastic, which is sold separately and also serves to organize furniture drawers.
If you have run out of cabinets and drawers in which to place your boxes, you can also use the baskets to take advantage of other corners of your home. A jute set, like this one from Kenay Home, allows you, for example, to store blankets in the living room or living room clothes at home in the bedroom, and simultaneously, it functions as a decorative element.
4. Beware the corners of chaos
There are areas in every house that like magnets, capable of attracting all of the chaos in the universe. To find them, think about your weak spot: if you prefer to amass documents, it'll be the office; if you want to buy a souvenir on every trip, the shelves will be crammed. The three experts we have consulted agree, however, that there are four most dangerous areas: the bedroom, the kitchen, the bathroom, and flat surfaces. Where there is a free support surface, the disorder will accumulate there. Finally, because it's a part of the environment, you don't see everything you've put on it. Below, 2 proposals for articles so that those corners where disorder tends to accumulate stop being chaotic.
Organizer for under the sink (kitchen)
Kitchen cabinets are frequently a mystery box; you never know what you'll find within. "The kitchen is a source of confusion," Gallay continues, "because we gather many things that we buy and then don't use." They live in the back of closets and never come out. Cleaning items, for example, are frequently relegated to a black hole beneath the sink, where nothing can be found; an organizer placed in this hole can be utilized to compartmentalize and maximize that space.

Plastic box with wooden handles (bathroom)

When organizing spaces such as the kitchen and bathroom, we must take into account the materials we use. It is advisable to avoid wicker and resort, for example, to plastic (underneath, a bathroom organizer box with a wooden handle) because it withstands humidity much better and is easier to clean. It is also useful in these areas to use accessories with handles to easily remove and then store day-to-day products.
5. Order does not remain alone
The order gives you time, helps you save money, and also gives you peace of mind. You have the impression that your home is a location where you may relax and unwind, rather than a place where everything is urgent and there is always a to-do list. The list of benefits of living in an organized space should be a sufficient excuse for, once the order is achieved, striving to maintain it. But the complicated many times begin precisely there. We recommend a wall coat rack, a magazine rack, and an office tray to preserve the order once the obstacle of obtaining it has been overcome. Three articles are added to the list of recommendations based on the advice of the experts consulted.
The first step to maintaining order is learning to say no. "You are more aware of what you have and what you need, so you don't buy too much," says Gallay. Afterward, it is important that the place you have selected to store each category of your belongings is "comfortable, logical and practical", according to the expert, so that things return to their place almost by inertia. "It is useless, for example, placing a coat rack for children and not putting it at their height," he exemplifies. This one that we recommend, made of wood and metal, has dimensions of 50 x 5 x 8 centimeters and is suitable for any room.
Magazine rack

The main guideline is to preserve order and to work day by day. Don't get disappointed. An order does not have to create anxiety, it is necessary to work from tranquility and calm ". The fundamental thing, explains the organizer, is to have defined a specific organizational system that works for you according to your needs and your routines. If, for example, you have the coffee table in the living room full of books and magazines because you like to read on the sofa, perhaps the most practical thing is to place a magazine rack by hand like this one made of metal that also serves as a decorative object.